About Us

Welcome to our Store!

Pugs U Gotta Save (P.U.G.S.) is a 501.(c).(3) non-profit organization dedicated to rescue and tending to the needs of abandoned and surrendered pugs in Vrigina! P.U.G.S. fosters abandoned and surrendered pugs from animal shelters, puppy mills and from owners unale to continue caring for their dog. Through the love and support of the volunteers and donors of P.U.G.S. we are able to continue this effort. Please browse our site to find out more on the ways to help.

Service

Shipping

Shipping Info:
Pugs U Gotta Save generally ships from Richmond, VA. Further, the shipping is calculated based on the weight of the items. We will refund any amount in excess of the calculated amount unless asked to keep the change.
For donations, we ask for your address so that we may provide you documentation of your donations. We hope that you return to our store frequently. If there are any questions please select the Contact Us option.

Shop with Confidence

Pugs U Gotta Save uses secure communication to process your donations. We maintain information collected here on a secure and password protected area and it is not provided to any third party. Payments are processed through PayPal which means that no credit card information is provided to P.U.G.S. and you can shop in confidence. No PayPal account is necessary.

Info

General Info

Customers

Useful Links

Contact Us

Have a Question?

Our email is monitored by volunteers of the rescue.



Gift Certificate FAQ
Redeeming Gift Certificates
If you receive a Gift Certificate by email, it will contain details of who sent you the Gift Certificate, along with a short message from them. The email will also contain the Gift Certificate Redemption Code. It is probably a good idea to print out this email for future reference. You can now redeem the Gift Certificate in one of two ways:

1. By clicking on the link contained within the email for this express purpose. This will take you to the store's Redeem Gift Certificate page. You will then be requested to create an account before the Gift Certificate is validated and placed in your Gift Certificate Balance. You can then use the amount to purchase any item from our store.

2. During the checkout process on the same page that you select a payment method, there will be a box to enter a Redemption Code. Enter the Redemption Code here, and click the Redeem button. The code will be validated and the amount added to your Gift Certificate Balance. You can then use the amount to purchase any item from our store.
Bestsellers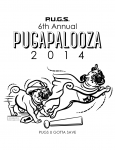 2014 Pugapalooza T-shirt
$15.00
$10.00

Save: 33% off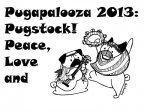 2013 T-shirt
$15.00
$7.00

Save: 53% off