About Us

Welcome to our Store!

Pugs U Gotta Save (P.U.G.S.) is a 501.(c).(3) non-profit organization dedicated to rescue and tending to the needs of abandoned and surrendered pugs in Vrigina! P.U.G.S. fosters abandoned and surrendered pugs from animal shelters, puppy mills and from owners unale to continue caring for their dog. Through the love and support of the volunteers and donors of P.U.G.S. we are able to continue this effort. Please browse our site to find out more on the ways to help.

Service

Shipping

Shipping Info:
Pugs U Gotta Save generally ships from Richmond, VA. Further, the shipping is calculated based on the weight of the items. We will refund any amount in excess of the calculated amount unless asked to keep the change.
For donations, we ask for your address so that we may provide you documentation of your donations. We hope that you return to our store frequently. If there are any questions please select the Contact Us option.

Shop with Confidence

Pugs U Gotta Save uses secure communication to process your donations. We maintain information collected here on a secure and password protected area and it is not provided to any third party. Payments are processed through PayPal which means that no credit card information is provided to P.U.G.S. and you can shop in confidence. No PayPal account is necessary.

Info

General Info

Customers

Useful Links

Contact Us

Have a Question?

Our email is monitored by volunteers of the rescue.



Events
About Our Events
Some events hosted by Pugs U Gotta Save, Inc. require an "entrance" fee. Events listed in this category include those as well as the other events that we take part in throughout the year(s). While we will do all that we can to confirm your purchase, we ask that you please retain any associated information as proof of your purchase and contact us if you do not receive further correspondence.
To see other events that we are involved with, visit our current and upcoming events page from our website.
Events are a way for P.U.G.S. to find new volunteers, bring awareness about the pug breed through interaction with either personnally owned or foster pugs, and generally to obtain necessary resources to continue the rescue effort. Depending on the weather and the venue, we may not always have a pug at our side, as much as they want to be wherever we are. We participate in events as either notified or found/created primarily in Virginia. If you have an event that you would like to see us at or think would be a great opportunity for us, then please email details to
events@pugsugottasave.org
.


Golf


Pugapalooza


Current and Upcoming


2014 Events


2015 Events


2016 Events


2017 Events
New April Support Means - Events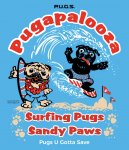 Featured Pug Stuff - Events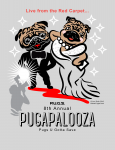 $15.00
$12.50

Save: 17% off

Monthly Specials For April
Bestsellers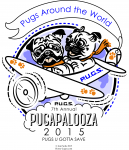 2015 Pugapalooza T-shirt
$15.00
$12.00

Save: 20% off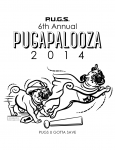 2014 Pugapalooza T-shirt
$15.00
$10.00

Save: 33% off